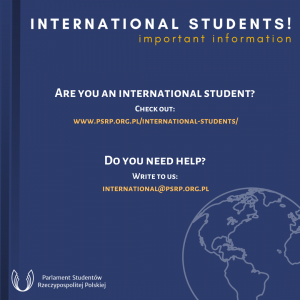 Life in a pandemic is not easy, but as representatives of the Students' Parliament of the Republic of Poland, we can offer you our help to solve issues related, e.g. to your studies and student rights or clarify all the doubts regarding COVID-19.
If you need help, write to us at international@psrp.org.pl. We offer support in several languages: English, German, Russian, Belarusian, Ukrainian, Spanish, Italian, Swedish, Norwegian and Catalan.
Given the dynamic situation around the world, we have also prepared for you a list of the most important and updated information related to COVID-19 in Poland. Feel free to check it out!
Social distance or a mask
If you have the opportunity to keep 2 meters distance from others in the open spaces, you do not need to cover your mouth and nose. Be aware that parents with children, persons living together and persons with disabilities are excluded from the obligation to maintain a 2-meter social distance.
It is mandatory to cover the mouth and nose in:
buses and trams,
shops
cinemas and theatres,
massage and tattoo studios,
churches,
public offices (if you are a suppliant).
The Main Sanitary Inspectorate will determine other places where it will be necessary to cover the mouth and nose.
Exceptions:
at work – if the employer ensures adequate distances between workstations and meets sanitary requirements;
in restaurants or bars – when you sit down at the table.
Abolished limits of people in the trade and catering industries
There must still be an adequate distance between the tables in the food courts. The customers must wear face masks before they sit at the table. All sanitary guidelines also apply, including hand and table disinfection.
Religious ceremonies and funerals.
The abolition of restrictions will also cover churches and other places of a religious cult. The people still have to cover their mouths and nose in churches and temples. The current limit of 50 people at funeral ceremonies will not apply anymore.
Hotels are fully open.
From May 30, restaurants and hotel bars can be opened and serve meals to guests.
From June 6, swimming pools, gyms and fitness clubs can start operating in hotels. Hotel owners must, however, follow specific sanitary rules.
Culture, sport, massage salons, markets.
From June 6, these institutions will be reopened, taking into account certain sanitary conditions:
cinemas, theatres, operas,
swimming pools, gyms, fitness clubs, playrooms and entertainment parks,
saunas, solariums, massage and tattoo studios
It will also be possible to organise fairs, exhibitions and congresses.
Sanitary recommendations for specific industries will be given after the process of consulting entrepreneurs.
Weddings and other family celebrations.
It will be possible to organise weddings and family celebrations up to 150 people.
Be aware! Wedding guests do not have to wear face masks.
Higher Education Institutions (from May 25)
We want to restore the capability to have at HEIs:
university classes (for final year students),
courses that are unfit for distance learning
Restoring of courses also applies to the PhD students and classes organised, e.g. in laboratories and medical simulation centres.
Follow all the announcements, and in case of any doubts related to the distance learning or exam session, please contact your colleagues and the teaching staff to be fully updated!
Border controls extended until June 12
The government decided to extend border controls at the internal borders with Germany, Lithuania, the Czech Republic and Slovakia for another 30 days – from May 14 to June 12, 2020. As before, you will be able to cross the border only at designated locations. Border controls will also be continued at seaports and airports.
Are you looking for additional sources regarding the foreigners' situation in Poland, click on those links:
Coronavirus outbreak – special solutions for foreigners (update)
Frequently asked questions – FAQ [gov.pl]
POLAND COVID-19 PANDEMIC ALERTS
New quarantine rules for people arriving in Poland
If you are looking for up-to-date news about the situation in Poland in English, you can follow the Radio Poland website as well: https://www.polskieradio.pl/395