International students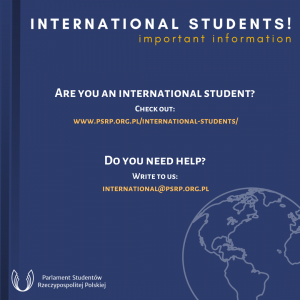 We urge that your time off from classes is not an excuse to intensify social contacts. It's a time of wise health choices.
We are responsible for our health, so let's behave responsibly! Our free time is quarantine. As young people, we can be infected with coronavirus and have no symptoms. However, this means that we can still affect others, especially the elderly or the sick, for whom coronavirus is a much more significant threat!
Look for information on your university's website.
Classes at universities are suspended or are taking place online until April 10. The reason is simple – we don't want you to be exposed to coronavirus infection. We also don't want the virus to infect more people.
Follow all the announcements, and in case of any doubts related to the distance learning, please contact your colleagues and the teaching staff to be fully updated!
If you live in a students' dorm, you have the full right to stay there according to the rules set by your university, and nobody can tell you to move out. 
Stay in the place of residence as recommended by the Polish Sanitary and Epidemiological Station and the Ministry of Health! During this time, you can catch up on college, watch new series or read books, and these are just some of the many ideas. If you have to be in quarantine, please follow all the rules, because the government decided to increase the penalties for disregarding the quarantine: from PLN 5,000 to PLN 30,000. More about self-quarantine you can find here:  https://www.youtube.com/watch?v=MOLb9z7X_Go&feature=emb_title
Remember! If you have a problem with understanding a rector's ordinance, or other problems related to this situation, e.g. concerning language, we are at your disposal. We launched a dedicated mail for you: (international@psrp.org.pl)
Remember that, we currently have a state of the epidemic in Poland. Therefore, all international travels by plane and train are suspended and not permitted. If you want to be more updated about the restrictions related to traveling and other temporary limits, please follow this information:
You will not be able to move freely at your place of residence until April 11, but this restriction does not apply to you in these cases:
If you are an employee, you have the right to get to your job. You also have the right to buy goods and services related to your professional activity.
If you are involved in fighting coronavirus and helping those who are in quarantine or who should not leave home, you can move around if it's a part of this activity.
You can move around to go shopping, buy medicines, visit a doctor, meet your family members or take the dog for a walk.
Please remember that you can only move in a group of up to two people. This restriction does not apply to families.
Public transport continues to operate as expected. However, only half of the seats can be occupied on a bus, tram or subway. If the vehicle has 70 seats, there may be a maximum of 35 people on its board.
The new regulations also prohibit any gatherings, events or meetings. However, you will be able to meet your family.
The restrictions on movement do not apply to people who want to participate in religious events. Here, however, the government has introduced another essential regulation. Please remember that only five people can join in the mass or other religious rite in Poland. In this case, the government recommends streaming all the events online.
Are you wondering what about shops, etc.? Grocery shops and banks will remain open, so you can stock up on food and have access to your bank in case of any issue. The same rule is applied to pharmacies.
If you are looking for up-to-date news about the situation in Poland in English, follow the Radio Poland website: https://www.polskieradio.pl/395
If you need help, write to us at international@psrp.org.pl. We offer support in several languages: English, German, Russian, Belarusian, Ukrainian, Spanish, Italian, Swedish, Norwegian and Catalan.
Informations for foreign students about legislation of stay due to the inability to leave Poland

Applications for the legalization of stay of foreigners in Poland submitted by post

Due to the state of epidemic threat, voivodeship offices have suspended direct customer service. Therefore, all applications for the legalization of stay of foreigners in Poland may be submitted by post. Applications for the legalization of stay of foreigners may be sent to voivodeship offices via Poczta Polska S.A. by registered mail or via any other postal operator. When submitting applications for legalisation of stay, it is important to do so during legal stay in Poland. Only then the stay during the administrative procedure will be considered legal.
Sending the application to the voivodeship office via Poczta Polska S.A. (which is the designated operator within the meaning of the Postal Law Act) before the period of legal stay has expired, guarantees that the deadline for submitting the application will be met. The legality of a foreigner's stay during the proceedings results from the fact of submitting an appropriate application within the statutory period, and not from the fact that the foreigner has a stamp in the passport confirming submission of the application. The voivodes will return to calling applicants to appear in person, when required by law, after the restoration of direct customer service.
Legalisation of stay due to the inability to leave Poland
Foreigners who cannot leave the territory of Poland for reasons beyond their control may apply for either a visa extension or a temporary residence permit due to circumstances requiring a short stay.
Detailed information on visa extension and relevant application forms can be found here (https://udsc.gov.pl/en/cudzoziemcy/obywatele-panstw-trzecich/chce-przedluzyc-swoj-pobyt-w-polsce/przedluzenie-wiz-i-pobytu-w-ramach-ruchu-bezwizowego/).
When applying for both a visa extension and a temporary residence permit due to circumstances requiring a short stay, it is important to do so during a legal stay in Poland. Only then the stay during the administrative procedure will be considered legal. Applications should be sent to the voivodeship office via Poczta Polska by registered mail or via any other postal operator. Sending the application during legal stay via Poczta Polska S.A. guarantees meeting the deadline for its submission and ensures the possibility of legal stay until the case is considered.Please follow further information appearing on the website of the Office for Foreigners. https://udsc.gov.pl/en/